Welcome
Browse our ranges of …
About us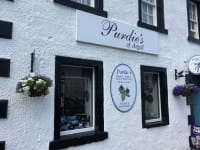 Purdie's of Argyll is a family-run company making soaps, toiletries and skin care products in Oban, 'Gateway to the Western Isles', on the west coast of Scotland.
All our organic soaps and toiletries are handmade in small batches with certified base ingredients (EU COSMOS and British Soil Association). These ingredients are blended with pure essential oils to produce a unique and ethical range of toiletries that are vegan friendly and have never been tested on animals.
Our Store
You can discover the full Purdie's range of organic beauty products for yourself by visiting our shop in the picturesque royal burgh of Inveraray which can be reached in just over an hour from Glasgow by road. The town itself sits on the western shore of Loch Fyne and is home to an ancient castle, (Inveraray Castle is the ancestral home to the Campbell Clan), an historic jail, (still open all year round to visitors), and the Vital Spark, the author, Neil Munro's, famous sea-going Puffer. Our shop can be found at the top of the Main Street West, opposite the renowned George Hotel, also well worth a visit.